Easy Dental
Easy to use. Easy to own.
Easy Dental is inspiring other dental professionals
More than 20,000 of your peers depend on Easy Dental solutions and services every day. Easy Dental provides the fundamental management and clinical tools dentists need, as well as the ability to add new functionality, like digital imaging integration, credit card billing, and eClaims verification, when their practice grows.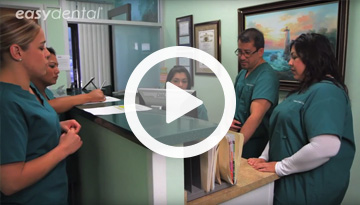 Belmont Dental - Long Beach, CA
Learn how Easy Dental helped Belmont Dental in Long Beach, California provide better care for more patients and grow from a practice earning $70,000 a year to $1.5 million a year!
Watch the video or read more.
Download the Case Study
Reviews
"I love the billing process…it's wonderful to just click a button and the bill goes out. You don't have to lick no envelopes."
—Dr. Kajuana P. Farrey, DMD, Moultrie, GA
"I would say the ease of use is amazing. If a person isn't electronically savvy, they could do [Easy Dental] with just a little bit of training."
—Dr. Stephen Scotto-Lavino, Seldon, NY
"We looked at competing products, but Easy Dental fit our needs the best. It's a great system, and probably one of the best decisions we ever made."
—William Burnett, Office Manager-Belmont Dental Care, Long Beach, California