Save Money and Simplify the Claims Process With eClaims for Easy Dental®
Maximizing productivity is key to the success of any dental practice. Easy Dental eServices boost your front office productivity with powerful tools that allow your team to get more done in less time.
eServices, which are seamlessly integrated with Easy Dental, simplify and even automate time-consuming tasks. One of the most popular eServices is eClaims. It streamlines the claim submission process so you get paid in days instead of weeks, while your front office team spends less time creating claims and waiting for reimbursements. With just a few clicks of the mouse you can create, validate, add attachments and electronically submit patients' insurance claims directly from Easy Dental. Plus, eClaims reduces rejected claims while maximizing the benefits of your digital photo and X-ray hardware.
eClaims is also connected to the largest list of payers in the industry for electronic claims and attachments. Because of this you can send more claims and attachments using eClaims than with any other service. eClaims will even print and mail your claims that can't be processed electronically—at no additional charge. Some of the time- and money-saving features in eClaims include:
Integrated Submission Process
eClaims allows you to send your claims directly from Easy Dental, without the use of bridges or print drivers, for the fastest submission.
Attachments
With eClaims, you can attach X-rays, photos, perio charts and more to your claim, saving you hundreds of dollars in duplication costs and speeding up the reimbursement process by weeks.
Claim Validation
The validation process checks your claim for necessary components and informs you of any omissions. The result is fewer rejections and greater peace of mind.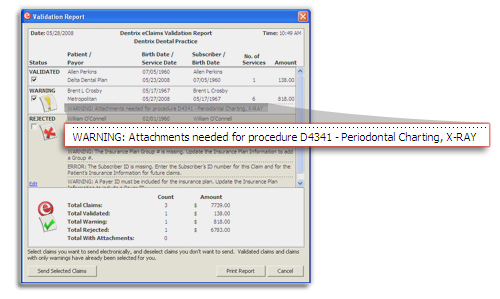 Claim Tracking
eClaims provides you with detailed submission reports to keep you better informed of the status of your electronic claims.
Automatic Updates
Automatic updates to the eClaims software ensure that your claims are transmitted reliably with the latest technology.
Broad Connectivity
eClaims is connected to the largest list of payers in the dental industry. This allows you to send more claims electronically with eClaims than with any other electronic claims provider.
Contact your sales or support representative for more information on eClaims. Services can be purchased separately or as part of an Easy Dental customer service plan. You can reach us at 800.768.6464.
Author:
Published:
03/19/2015