Make the most of your software with the Easy Dental Resource Center
Are you just getting started as an Easy Dental user? Maybe you're training new staff or installing a new upgrade. Perhaps you just want to know how to use Easy Dental to its maximum potential. You'll find help for all of these situations in the Easy Dental Resource Center.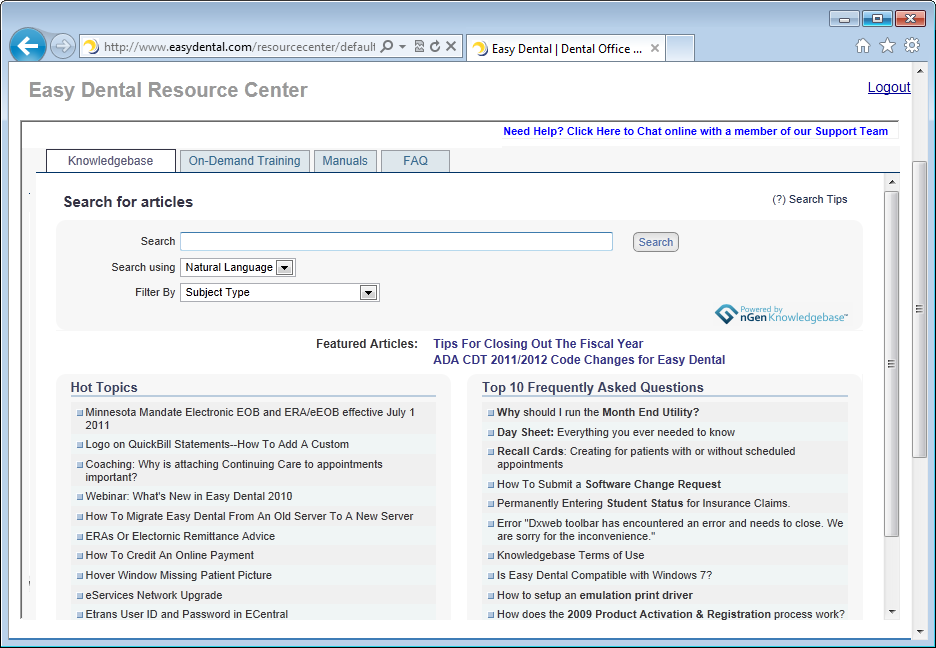 The Easy Dental Resource Center is your one-stop online resource to find information about using your Easy Dental software. Best of all, users on a customer service plan can  access the Resource Center 24 hours a day, 7 days a week. This unlimited access means that you can find the answers to your questions when it's convenient for you.
To access the Resource Center:
In your Internet browser, navigate to http://www.easydental.com/resourcecenter.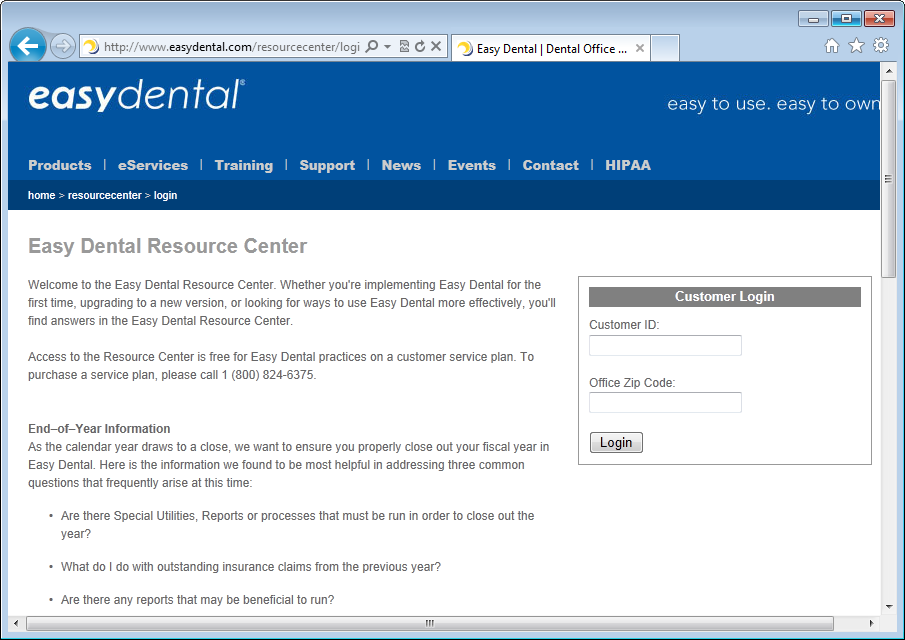 Enter your customer ID number and your ZIP code.
Click Login. The system will perform a check to make sure your office has a current customer support plan. If you do, the Resource Center opens.
Click the appropriate tab to go to the area of the Resource Center you'd like to access.
In the Resource Center you'll find information divided into four categories: the Knowledgebase, On-Demand Training, Manuals, and FAQs.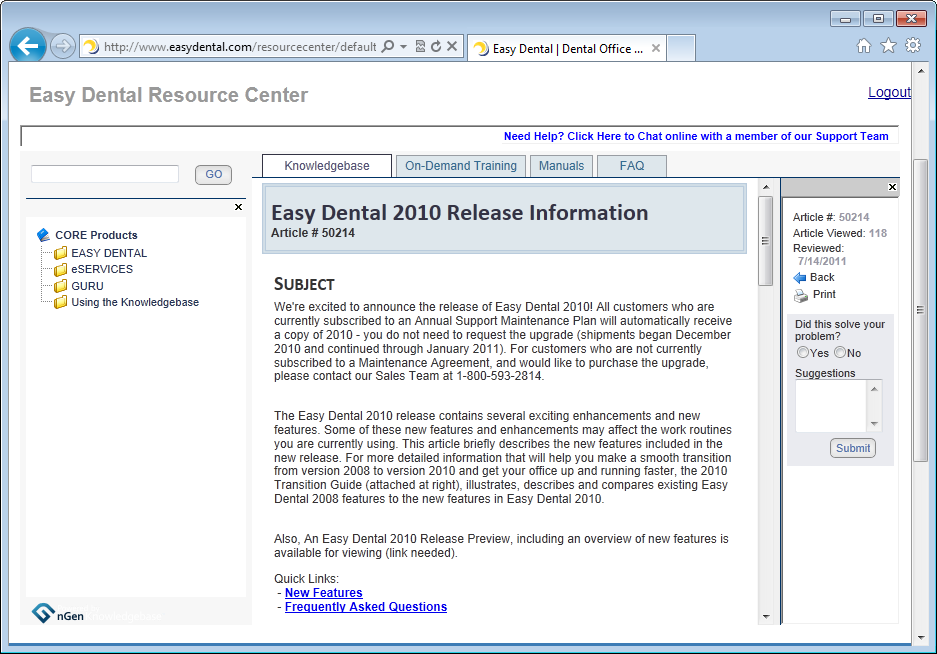 On the Knowledgebase tab, you'll find a search engine that allows you to tap into the database that support technicians use. You'll discover product information, troubleshooting tips, and answers to common software questions. Simply type in a few key words and hit Search to view the topics most relevant to the key words you entered.

Looking for training material for new staff or information about features you haven't used before? The On-Demand Training tab contains interactive product tutorials, release previews, and hands–on practice exercises. Just click the link to the topic of your choice to launch the video or tutorial in the Adobe Flash Player. To view on-demand training, you'll need a computer with a high–speed Internet connection, an Internet browser, and speakers or headphones. You'll also need to install the free Adobe Flash Player (version 9 or higher).)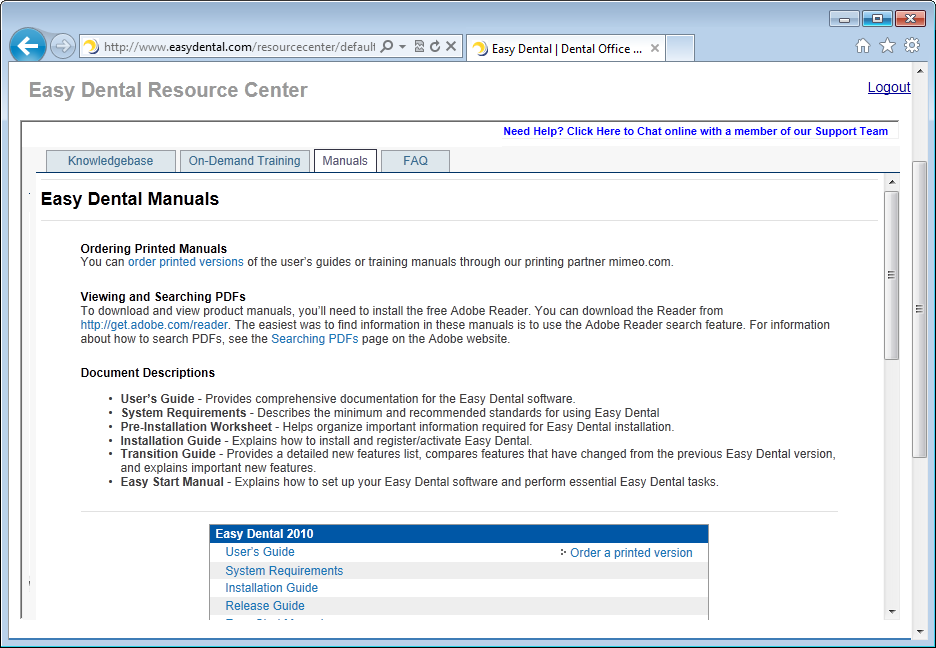 If you'd rather get in-depth information or specific how-to steps about any feature in Easy Dental, click the Manuals tab. Here, you can get system requirements, installation instructions, or comprehensive documentation—you'll even find new-user training manuals. Documents open in Adobe Reader so you can study them online. But, if you prefer a printed manual, you can click the order a printed version link to get a hard copy sent to your office.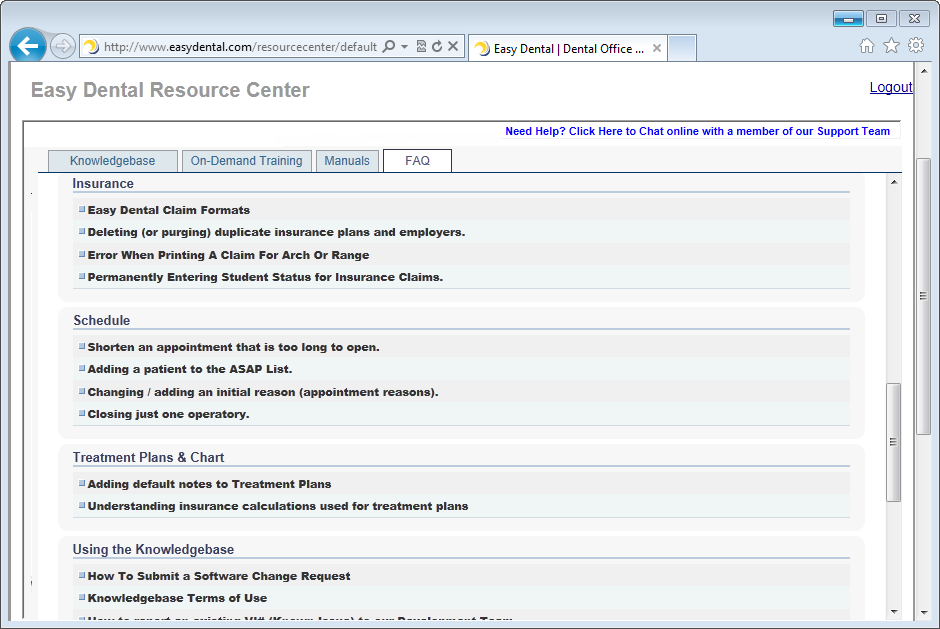 Finally, the FAQ tab shows you the most common questions other Easy Dental users are asking. You'll find questions arranged by topic or module to make it easy to locate the topics you're most interested in reading.
Browse to www.easydental.com/resourcecenter and check out the Easy Dental Resource Center today to start making the most of your Easy Dental software.
Author:
May Wescott
Published:
09/06/2011